Discrediting and propaganda messages spread on Facebook January 5- January 11

Zaza Shatirishvili's conspiracy theory about the management of the USA by several families
On January 9, the pro-government expert Zaza Shatirishvili spread a conspiracy theory, as if the USA, instead of Joe Biden, is ruled by several families who created a liberal ideology. According to his own statement, the previous US president, Donald Trump, resisted the informal influence of these families, and after Biden's presidency, they came out of the shadows. According to Shatirishvili, they are fighting against traditional institutions and religion and creating a wave of aggressive atheism, as well as engaging in "LGBT propaganda", which aims to destroy the ethnic, religious and cultural identity of the states. Shatirishvili said that "confronting the dangers of liberal ideology and agentocracy should be the main national task of our country". This conspiracy theory was shared by other pro-government experts and members of "People's Power": Ghia Abashidze, Levan Nikoleishvili, Zaal Anjafaridze, Nino Potchkhua, Tamta Megrelishvili, Edisher Gvenetadze and Zurab Kadagidze.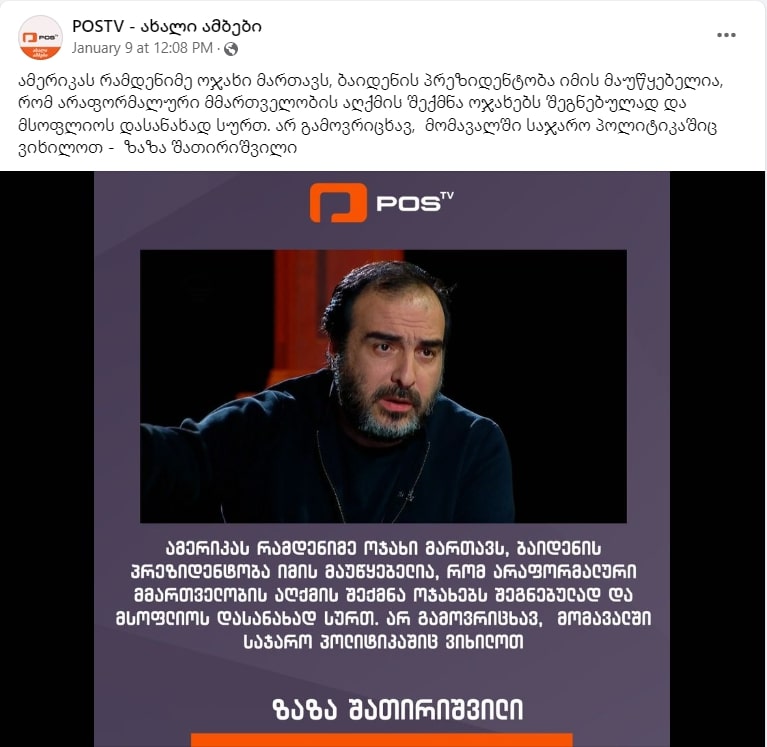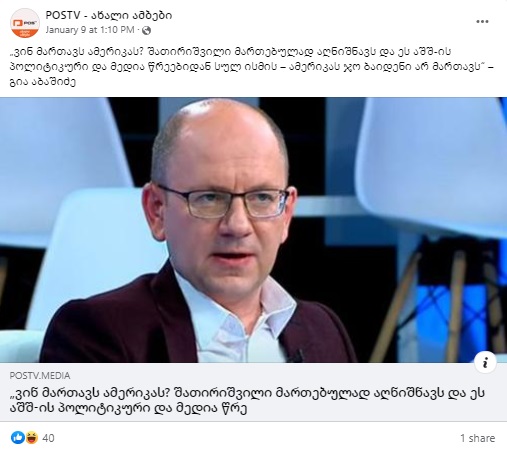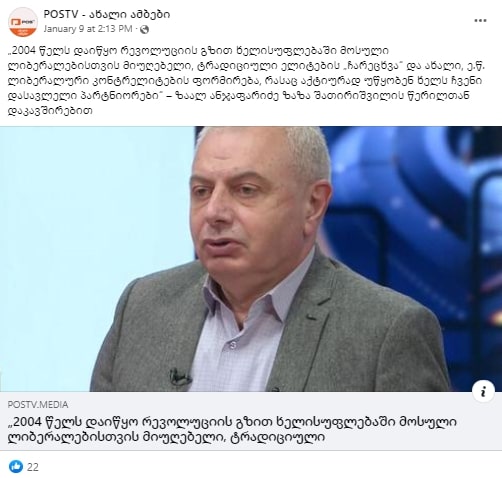 Photo 1:
(Text in the photo)
POSTV-News:
America is run by a few families, and Biden's presidency is a sign that creating a perception of informal governance is what families consciously want the world to see. I do not rule out that we will see it in public policy in the future.
Photo 2:
(Text in the photo)
POSTV-News:
"Who rules America? Shatirishvili rightly points out, and this is heard all the time from the US political and media circles. America is not run by Joe Biden." – Gia Abashidze
Photo 3:
(Text in the photo)
POSTV-News:
In 2004, the traditional elites, unacceptable to the liberals who came to power through the revolution, washed away and the new - so-called formation of liberal counter-elites - was formed, which is actively promoted by our Western partners. – Zaal anjaparidze about Zaza Shatirishvili's letter.
Using photo manipulation to depict Bidzina Ivanishvili and Vladimir Putin as allies
A photo manipulation was spread on the anti-Georgian Dream pages, on which Bidzina Ivanishvili and Vladimir Putin were pictured together, and their connection was underlined in this way.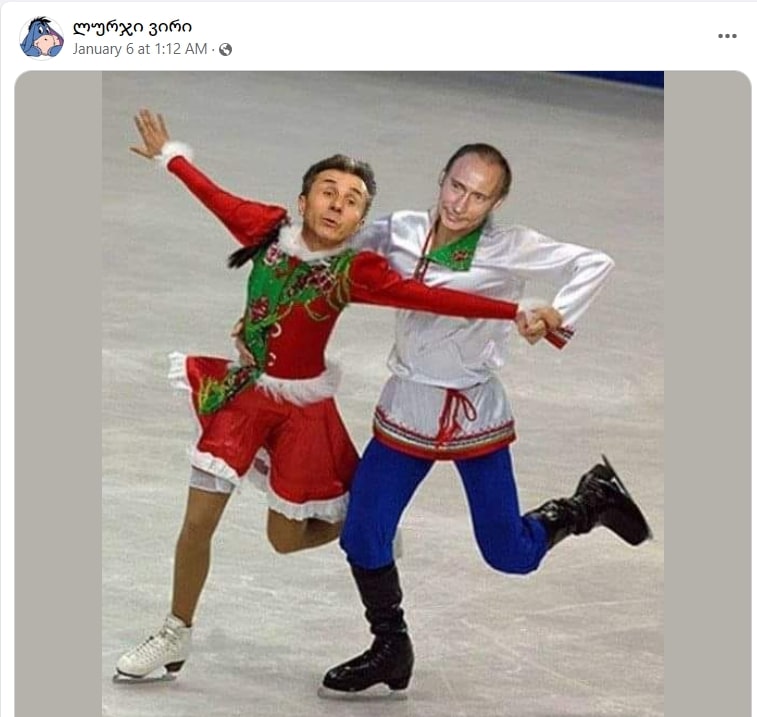 Photo 4:
(Text in the photo)
Blue Donkey (Lurji Viri):
Discrediting of the United National Movement, by spreading, presumably, the audio recording of Nika Melia
Anti-opposition pages and reports actively circulated an audio recording, in which Nika Melia, presumably, talks about Mikheil Saakashvili, the issue of entering the parliament, and the arrival of the founder of the "United National Movement" in Georgia. In the recording, Melia allegedly refers to the former president with insulting words. The authors of the published posts emphasized the controversy in the "United National Movement" and blamed Levan Khabeishvili, Vano Merabishvili and Davit Kezerashvili for spreading the recording. The mentioned recording was also posted on the Facebook page of "POSTV - Analytics".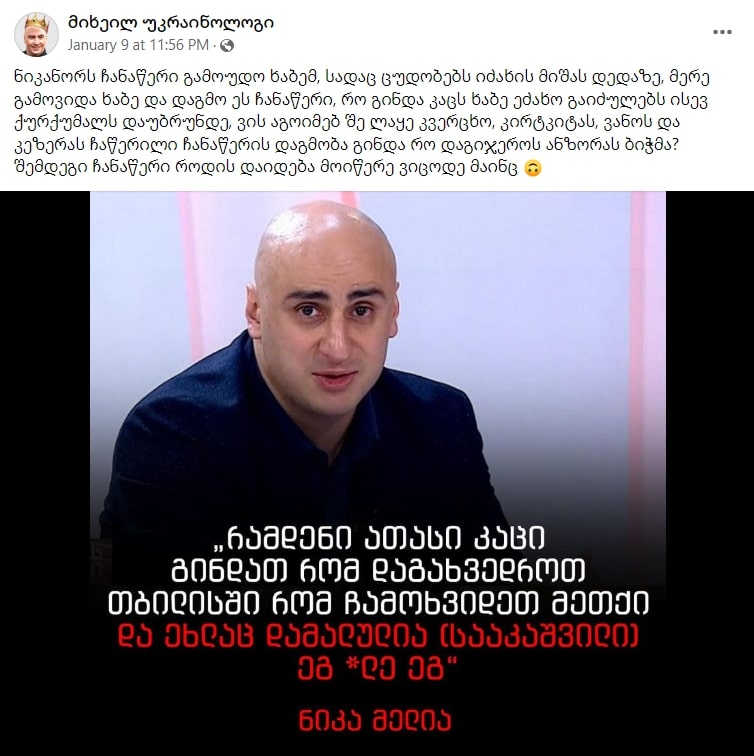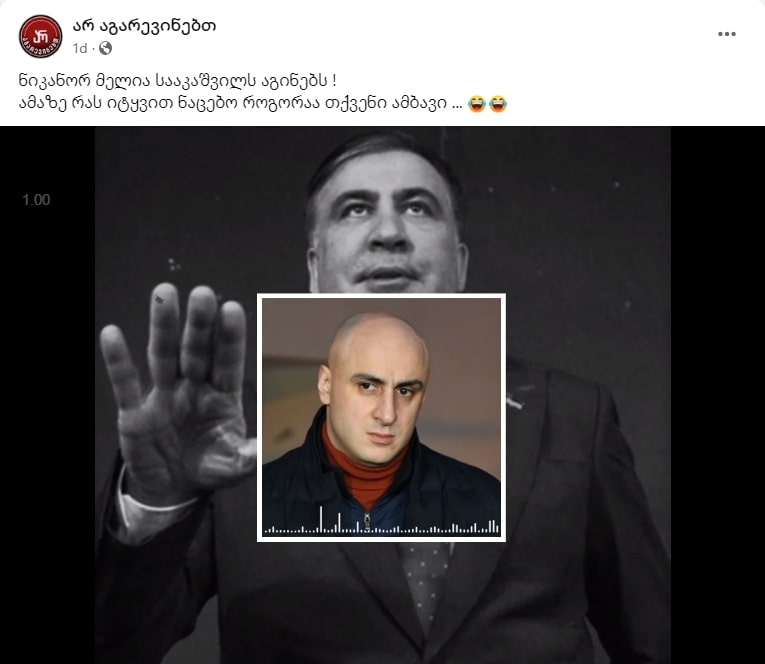 Photo 5:
(Text in the photo)
Mikheil Ukrainologi:
Khabe published Nikanori's recording, where he says bad things about Misha's mother, Then Khabe came out and condemned this recording. If you want to call a man Khabe, you will have to go back to Kurkumal. Don't fool me, you rotten egg. Do you want to make Anzora's boy believe that you condemn the tape recorded by Kirkita, Vano, and Kezera? Please, let me know when the next recording will be released.
Photo 6:
(Text in the photo)
We will not let you mess it up:
Nikanor Melia curses Saakashvili. What do you guys say about this? How is it going?
Discrediting non-governmental organizations for sharing a post of Christmas and New Year greetings to Facebook users on December 25
The page of "Georgian Dream" Communications Department, "In reality (Sinamdvileshi)", published an advertised post against some non-governmental organizations-"ISFED" and "Transparency International - Georgia". The organizations became the target of discrediting due to the posts published on their Facebook pages on December 25, with which they wished happy Christmas and New Year to the users of the social network. An identical post was published on the anonymous Facebook page "It's Time for the Truth", which is distinguished by its anti-NGO campaign. The post accused the organizations of religious propaganda and trying to interfere in church affairs. A post with the same content was published on the fake media page "GeoPress", where the organizations were mentioned as "rich NGOs" which "did not congratulate Christmas to Orthodox people. Pro-government expert Gia Abashidze also responded to the mentioned. He called "ISFED" and "Transparency International - Georgia" satellite organizations of "United National Movement" and accused them of celebrating Christmas on December 25. Along with Gia Abashidze's comment on the mentioned issue, the response of historian Simon Maskharashvili was also actively spread on pro-government and fake media pages.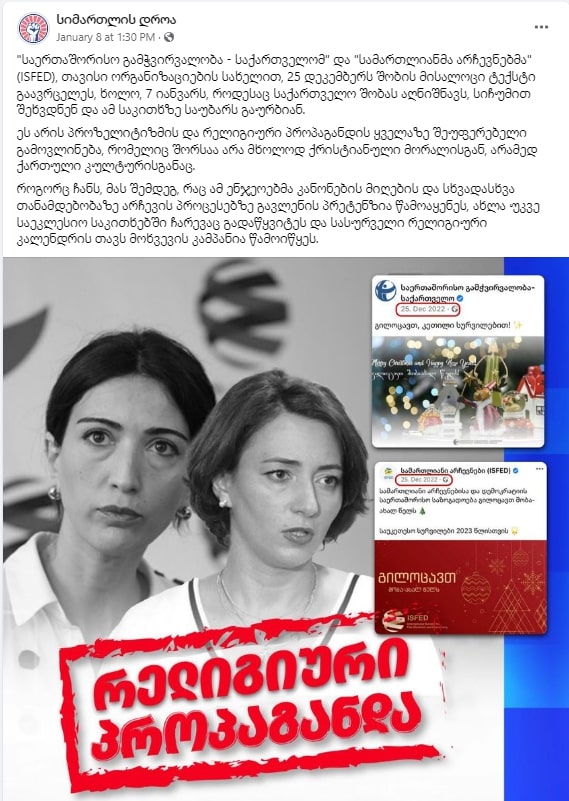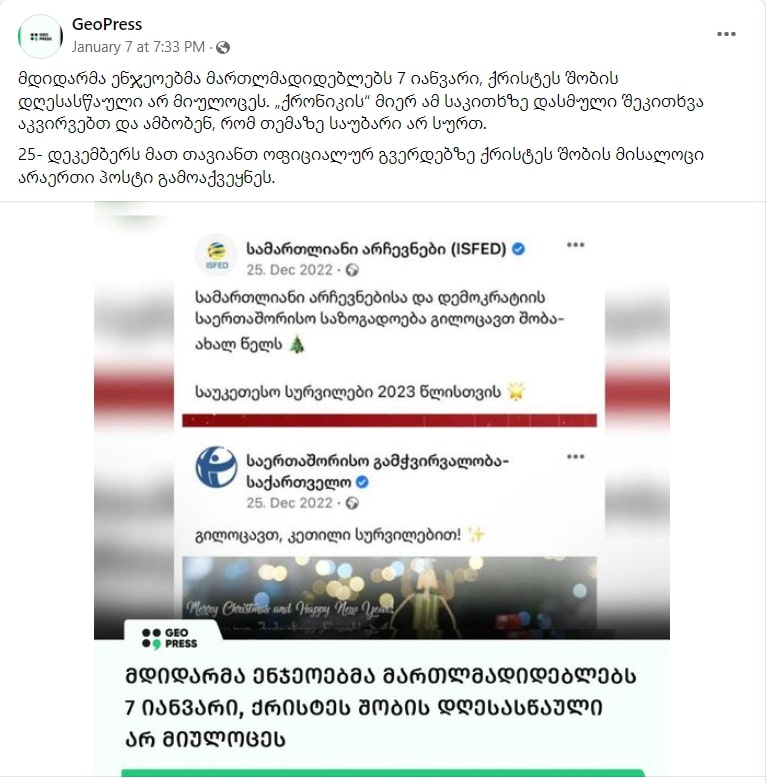 Photo 6:
(Text in the photo)
In reality (Sinamdvileshi):
"Transparency International -Georgia" and "ISFED", on behalf of their organizations, published Christmas greetings on December 25, and on January 7, when Georgia celebrates Christmas, they were silent.
In reality, this is the most inappropriate manifestation of proselytism and religious propaganda, which is far not only from Christian morality, but also from Georgian culture.
It seems that after these NGO's claimed to influence the process of making laws and electing various positions, they have now decided to interfere in church affairs and started a campaign to spread the preferred religious calendar.
NGOs representing "civil society" have ceased to speak on behalf of "society", and by interfering in church affairs, they have lost their "civil" dimension.
Photo 7:
(Text in the photo)
Geopress:
The rich NGOs did not congratulate Orthodox people Christmas on January 7. The question asked by "Kronika" on this issue is surprising for them and they say that they do not want to talk about it.
On December 25, they published a number of Christmas greetings on their official pages.
About the weekly review
Within the social media monitoring program, ISFED presents the weekly overview and description of messages that echo political issues, (more or less) virally circulates on social networks during the week, and involves more than one actor, account or page in its dissemination . In certain cases, the most interactive posts of the week are presented.
For data processing, the organization uses the Facebook monitoring tool Crowdtangle and relies on the existing updated database of pages/accounts involved in discrediting campaigns.
The pages are available on the platform - www.disinfoobserver.ge