Coordinated Covert Operation of Alt-Info on Facebook

ISFED identified 34 pages on Facebook that display coordinated inauthentic behavior and are associated with organization Alt-Info that spreads divisive narratives. Alt-Info is a self-proclaimed source of alternative information but in reality it is engaged in anti-liberal, anti-immigration, anti-LGBTQ and anti-Western propaganda.
During the 2018 presidential election, through social media monitoring ISFED revealed that Alt-Info is actively opposing values of liberal democracy and uses Facebook to disseminates mostly anti-liberal, nationalist, openly anti-Western and anti-immigration messages. According to Atlantic Council's Digital Forensic Research Lab - DFRLab, Alt-Info is posing as a reliable source but in reality, it is working to incite anti-Western and homophobic sentiments.
Alt-Info Ltd. was registered on January 28, 2019 and the National Agency of Public Registry lists Shota Martinenko as its director. Company shares are owned by Shota Martinenko and Tsiala Morgoshia, 50% each. Another organization associated with Alt-Info, non-profit (non-commercial) legal entity Alternative for Georgia was registered on January 30, 2019. According to the Naional Agency of Public Registry, its board members include Konstantine Morgoshia, Zurab Makharadze, Shota Martinenko, Irakli Kizilashvili and dual Russian-Georgian citizen Giorgi Kardava. Both organizations list the following email address in their contact information: altinfocom@gmail.com.
-----
-----
ISFED revealed coordinated activity of Alt-Info on Facebook, through which the organization is attempting to disseminate its content among Facebook users massively and in a disguised manner. Currently, Alt-Info's primary weapon is sharing of online video content (livestreams) on 34 Facebook pages associated with it. 12 of these pages are openly associated with Alt-Info and other 22 have covert association.
In addition to 34 pages, ISFED also found 25 public groups where Alt-Info news are actively shared. Among them, 7 are closely coordinated and engaged in Alt-Info's propaganda in a disguised manner.
22 pages that are covertly disseminating Alt-Info materials have a total of 365,549 subscribers, while 12 pages that are operating officially have 157,640 subscribers. 7 groups that are closely coordinated have a total of 169,734 members and the remaining 18 groups have a total of 777,679 members.
-----
-----
Alt-Network of pages
Alt-Info began to openly expand its network on Facebook from July 2019, after Facebook removed earlier pages of Alt-Info and Alpha-Dominant – also associated with Alt-Info and known for its use of hate speech.
-----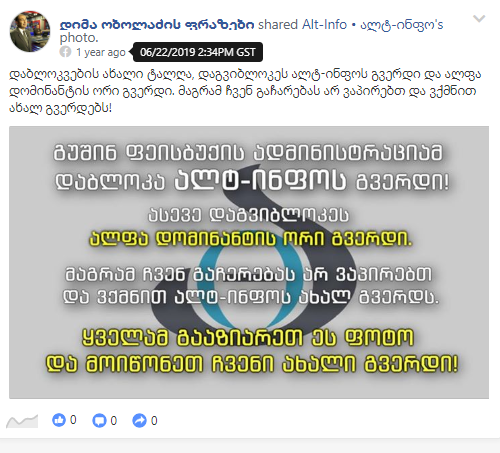 Post text: a new wave of blocks, Alt-Info page and two pages of Alpha Dominant were blocked. But we are not planning to stop and are creating new pages. Text on the photo: Yesterday, Facebook administration blocked Alt-Info page. Also two of our Alpha Dominant pages were blocked. But we are not planning to stop and are creating a new Alt-Info page. Everyone share this photo and like our new page!
-----
Afterwards, current official page of Alt-Info • ალტ-ინფო was created again, soon followed by appearance of new type of pages associated with it.
It seems that the purpose of Alt-Info was to diversify subscribers and therefore, some newly created pages would pose as entertainment pages on Facebook. Their names are similar, which inherently indicates that they represent the same network.
-----
-----
In addition to news that corresponds to their names, these pages also disseminate content associated with Alt-Info.
-----
-----
Among pages closely connected to Alt-Info are those that actively disseminate anti-liberal narratives: Geo Pepe, Alpha Dominant and Facebook page of Konstantine Morgoshia, former member of the Georgian March and currently the chairperson of a new organization associated with Alt-Info, Alternative Georgia (See table 1 in the annex).
Covert pages of Alt-info
Another network of pages that disseminates Alt-Info content is covertly connected to Alt-Info and serves the purpose of delivering their views to as many users as possible, in a disguised manner. Names of these pages are suggest that the pages are about entertainment or learning, and their ties with Alt-Info are not clear to a user.
-----
-----
22 pages monitored by ISFED simultaneously share all video programs that are initially published on the official page of Alt-Info, which confirms their coordinated behavior.
Majority of these pages do not publish anything other than Alt-Info news. The exception are 3 closely connected religious pages that disseminate Orthodox posts in addition to Alt-Info videos. These are the following pages: Generation for Christ, Youth Unity, Patriotic Spirit. All three of them publish Alt-Info livestream programs simultaneously or within a few-minute intervals.
-----
-----
In addition to these pages, coordinated behavior is also noticeable on other covertly operating pages that consistently share posts from Alt-Info's official page within a few-minute intervals.
Notably, some covert pages publish these programs as original posts, much earlier than Alt-Info's official page.
-----
Use the arrows < and >
-----
Quantitative data analysis based on data from Facebook owned social media analysis tool CrowdTangle indicates that number of views of Alt-Info videos increases due to post shares and views from shares account for nearly half of the total views. This makes it clear that Alt-Info is disseminating its ideology covertly and in an organized manner, using disguised Facebook pages.
-----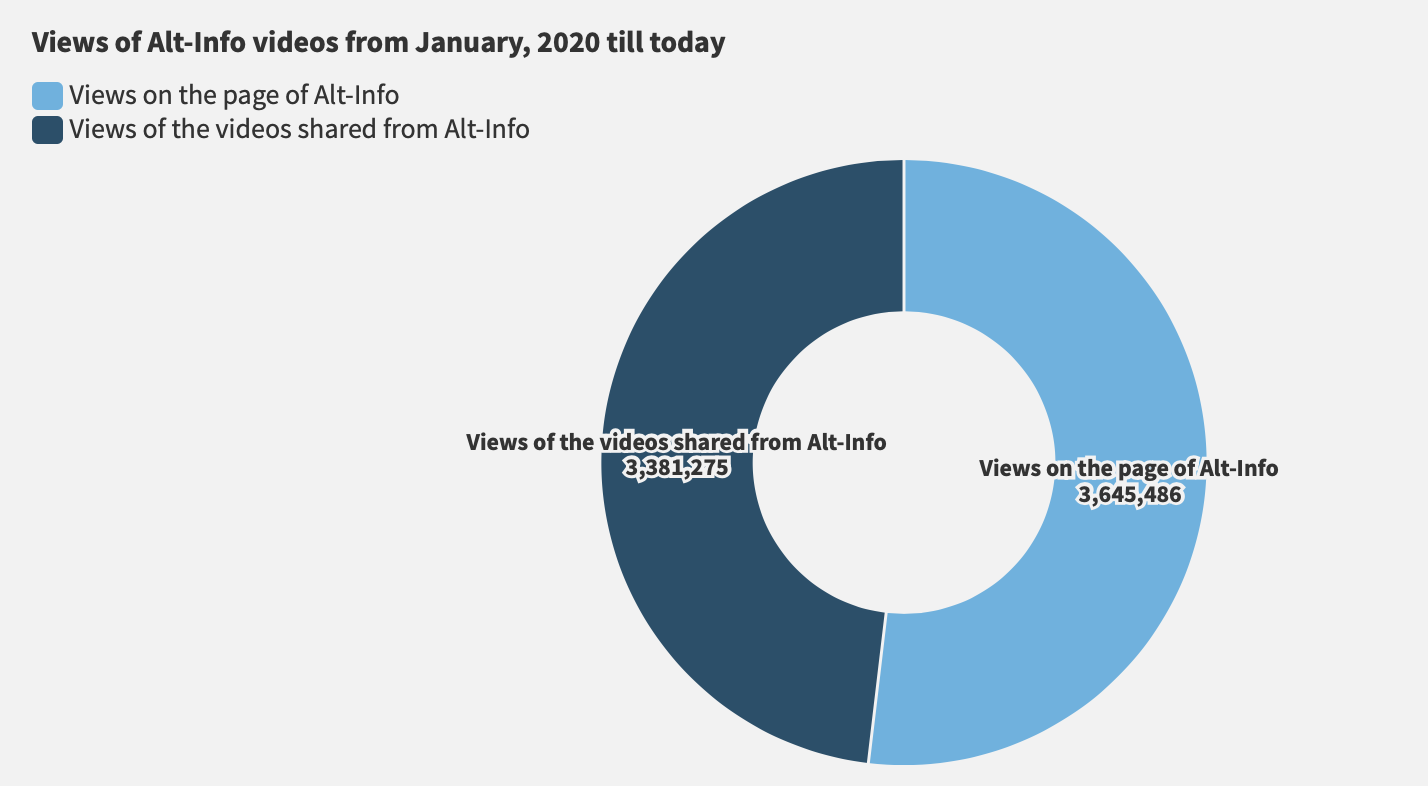 -----
On 22 pages connected to Alt-Info, despite large number of subscribers, videos shared from Alt-Info do not have much feedback. This may be indicative of the fact that majority of the subscribers do not support Alt-Info's cause. It is possible that they have been misled by page titles, connected to entertainment or learning, and subscribers have been garnered through page titles and initially published neutral, entertainment posts.
Alt-Info content
Alt-Info is attacking values of liberal democracy in the Georgian society actively and in an organized manner. Their rhetoric is marked with cultivation of fear and unacceptability toward the different and the new. Their Facebook activity serves the purpose of inciting anti-liberal sentiments. Alt-Info posts and live video programs often use hate speech and insulting remarks toward sexual minorities, women and migrants. Their narrative links migrants with violence. The page often discredits activities of NGOs and women's rights advocates.
It has been established numerous times that Alt-Info's propaganda is mostly based on fabrications and manipulations of information.
-----
| | | |
| --- | --- | --- |
| | | |
| 40% of crimes in Paris are committed with participation of foreigners | | Liberals announced a Pride and gay revolution for tomorrow (July 8). Complete mobilization. Everyone in Vere Park from 10am against LGBT propaganda. |
-----
At the same time, Alt-Info is trying to instigate anti-Western sentiments and encourage people's sympathy toward Russia. As an example, on July 10, 2020, founder of the Eurasian Movement and ideologist of Russia's expansive policy Aleksandr Dugin was invited as a guest on an Alt-Info program. The program talked about importance of Eurasian region. Dugin explained that if Georgia opts for a neutral course and refuses pro-Western aspirations, Russia will welcome its territorial integrity. The program was disseminated by 26 pages involved in Alt-Info network. It was also shared by Aleksandr Dugin's Facebook page and on his profile.
-----
-----
Notably, the video has 15,298 views on Alt-Info and 38,027 views on pages and groups that shared it.
In addition to post sharing, often disguised pages cross-post Alt-Info livestream videos, which is indicative of their coordinated behavior.
-----

-----
Alt-Info's Activity in Groups
In addition to pages, Alt-Info also uses Facebook groups for dissemination of content. Officially there is only one closed group affiliated with Alt-Info - Alt-Info Group. However, ISFED discovered 25 Facebook groups where the same inauthentic or fake accounts share videos from Alt-Info official page in an organized manner. Administrator of one of these pages mematiane.ge სოსო მიქელაძე is Alt-Info founder Shota Martinenko.
-----
-----
Among the groups monitored, 7 represent an interconnected network. These groups try to create the impression that they are different and their content general, while in reality they serve the purpose of disseminating Alt-Info's Facebook content.
Coordinated behavior in these groups is noticeable, as manifested by sharing of identical posts. These posts are also shared at the same time.
-----
Use the < and > arrows
-----
These groups have following three administrators in common - Duta Petridisi, Giorgi Jinjolia and Freya Malyari.
-----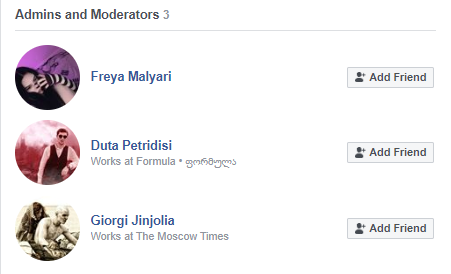 -----
ალტ-ინფოს პოსტების ჯგუფებში გავრცელების სქემა კონკრეტული Facebook პროფილების გამოყენებით:
-----
Notably, usually the groups publish Orthodox messages most often, while political posts are only limited to Alt-Info's video programs.
-----
-----
-----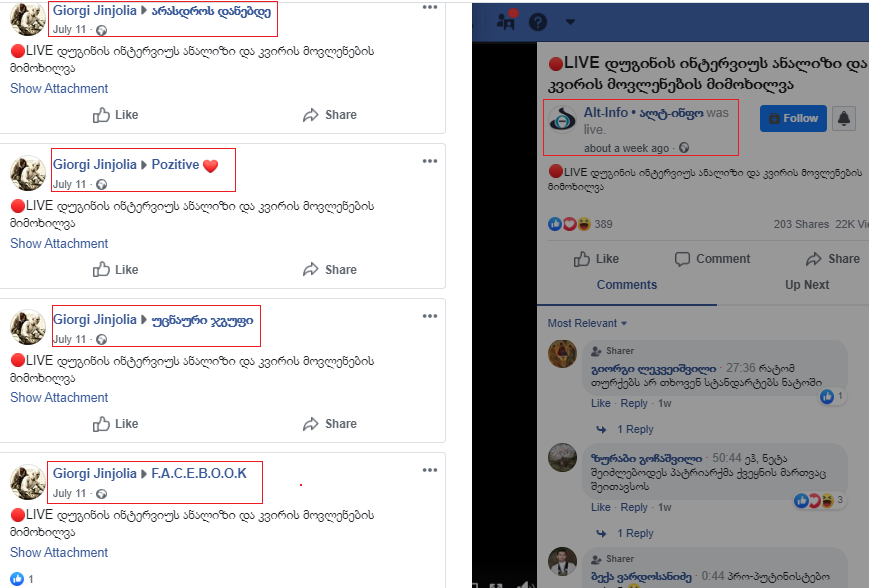 How Alt-Info video is shared in different groups
-----
Facebook policy prohibits coordinated inauthentic behavior, when groups or pages of people work together to mislead others about who they are and what they are doing. For this reason, Facebook has removed coordinated networks in Georgia already on two different occasions.
Inorganic activities of Alt-Info for dissemination of anti-Western and anti-liberal ideas on Facebook contains elements of coordinated inauthentic behavior and indicates that this organization is trying to influence public opinion covertly. Such disguised and propaganda methods are part of disinformation campaign, directed at polarization of the society and it may be used as one of the tools for Russia's interference in the parliamentary elections of Georgia. These suspicions are reinforced by inviting one of the main ideologists of Russia's expansive policy as a guest on Alt-Info's live program and disseminating his interview using inauthentic methods, in order for the public to view the Russian-Georgian conflict from Russian perspective and blame Georgia's pro-European course.
The report is prepared based on openly available sources on Facebook. Assessment of the personal accounts (profiles) stems from their public activity only. CrowdTangle, a social media analytics tool owned by Facebook, was used as a monitoring tool.
ISFED's social media monitoring program is carried out with the generous support from the American people through financial assistance from the United States Agency for International Development (USAID), East-West Management Institute's (EWMI) ACCESS Project, and through funding from Open Society Georgia Foundation (OSGF). Content of this report is the sole responsibility of the International Society for Fair Elections and Democracy and may not necessarily reflect the views of the donor organizations.