Managing personal data on Facebook

Facebook Privacy Shortcuts: An ability to control your own algorithm?
Facebook Privacy Shortcuts have been updated again in 2021 - the interface has been improved and navigation has been simplified. The platform has been informing users about the data collected on them since 2012, although it did not provide control over data sharing.
The situation changed after the 2018 Cambridge Analytics scandal. With the growing awareness of new methods of using personal data in open and anonymous political campaigns, there has been increased excitement and the need to revise the platform's regulations. With the growing awareness of new methods of using personal data in open and anonymous political campaigns, there has been increased unrest and the need to revise the platform's regulations. As a result, Facebook users have already been given the opportunity to partially control the sharing of personal data for Facebook and the partners of the platform.
Nowadays, by using personal data settings, users can modify the news feed experience, which, if used, should significantly reduce the visibility of unwanted and / or manipulated political content.
What is the purpose of using our personal information in political campaigns?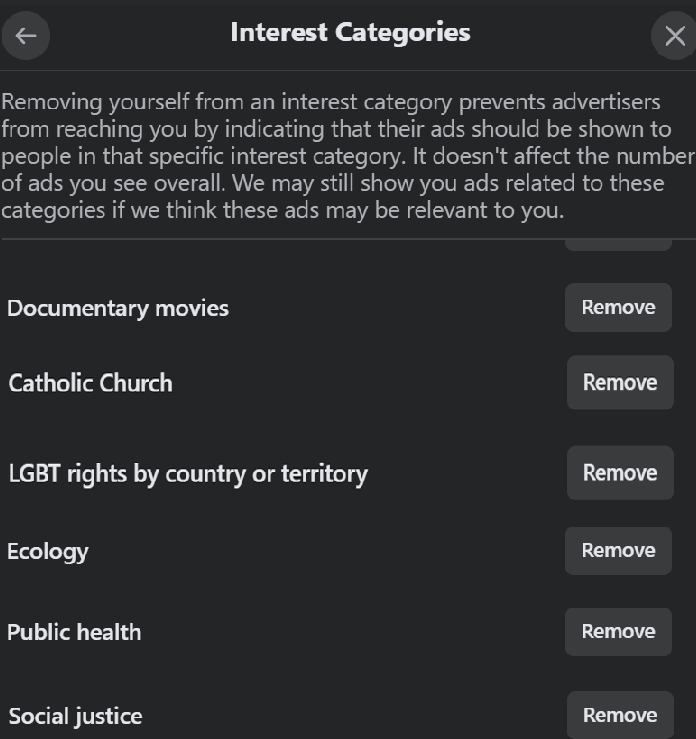 On Facebook, during the election period, it becomes almost as impossible to avoid political ads in the news feed as, for example, banners on the street. However, unlike banners placed on the streets, Facebook political ads are personalized for each voter and designed for the individual user according to their behavior model.
Facebook's artificial intelligence knows the behavior, attitudes, interests and tastes of each user, and advertisers can "rent" this information from Facebook to show each voter exactly what they would want to see. Advertising according to such detailed consumer data is called micro-targeting.
Informal, often anonymously placed advertisements are a particular challenge in this regard. In particular, in addition to official pages, the publishers of manipulative advertisements are often anonymous pages - in the last parliamentary elections, ISFED found 231 ads sponsored by anonymous pages, and in the last self-government elections - 479. The challenge with anonymous ads is that it's unknown who is creating the ads, who is financing them, and ultimately, who is trying to manipulate the voters' attitude. That is why spending money anonymously on elections is prohibited by Georgian law.
How does Facebook study user behavior?
Over the years, billions of users have traded their experiences, memories and interests in exchange to use Facebook as a free platform. As a result, Facebook is free to use. Similar to other free social media platforms, the company's business model is based on displaying ads to users. The advertisements must be as successful as possible, that's why they are personalized - aimed at an audience that will be profitable for the advertising client. A company will not be able to target an ad if it does not know its user base well. Therefore, everything a user does on Facebook or beyond will generate data, in other words Facebook studies user behavior to show tailored, profitable ads to them.
I - Facebook studies its users primarily through actions taken on the platform. Each like, comment, ad click, time spent watching a video, page and profile visits help Facebook's artificial intelligence to understand user behavior - interests, tastes, requirements, so that the algorithm can offer relevant content in the future. In addition, the platform recognizes the user's location, age, appearance. Instagram, Messenger and WhatsApp, which are owned by Facebook, also contribute to the data collection.
II - In advertising, Facebook also uses data collected by third party individuals. For example, if a store asks you to provide your first name, last name, email, or phone number when purchasing a product, the company can upload that information while posting an ad on Facebook. As a result, the platform displays advertisements to users who are registered by that email, mobile number or name. Unfortunately, large amounts of such data are available on the digital black market - the data provided when registering on websites may fall into the hands of a data broker and be sold to other interested parties.
III - Another way of collecting user data is to study their actions on the internet. In other words, Facebook collects data on us even when we are not using Facebook. It should be noted that this data does not only include visits to websites and applications. Facebook Pixel is built into websites, which controls the actions taken on the site, including clicking on pages, time spent on the site, and even at what stage of purchasing the product you left the site - while adding it to the cart or after paying.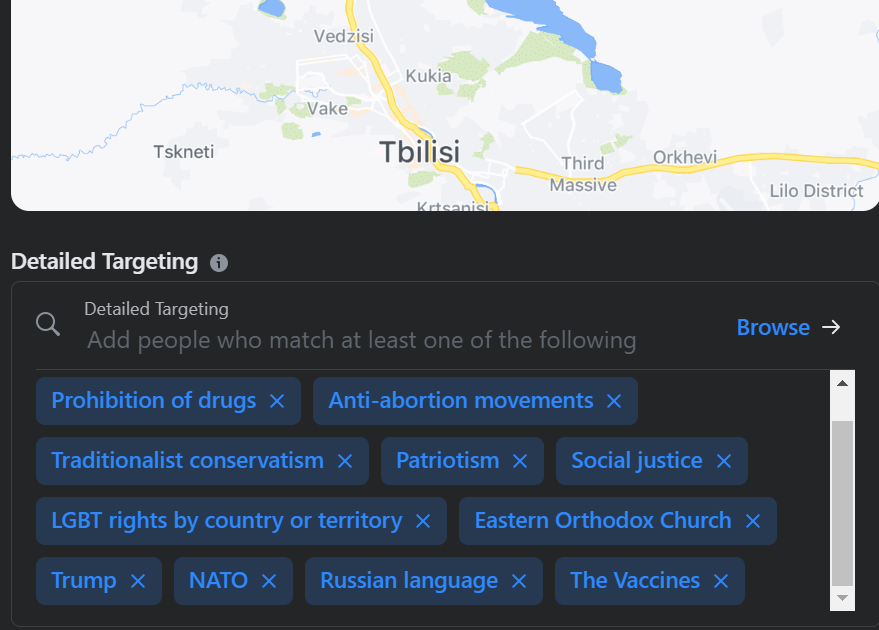 This data allows the Facebook ad client to, for example, showing discrediting ads of the Cartographers to a nationalist audience, ads discrediting the parties that signed for LGBT rights to a potentially critical audience, political disinformation motivated by protecting faith to a religious audience and so on. Consequently, micro-targeting discrediting and disinformation campaigns deepen public polarization in political discourse, undermine citizens' awareness of the pre-election period, and manipulate their decision-making.
Observations on the Ads library show that the clients of political advertisements are actively trying to improve audience selection. One example of this is the so-called A / B test, in which the customer targets one ad to several different audiences, then compares the results and selects the most profitable audience. In the example shown in the photo, the party Third Force aimed one advertising clip at 15 different audiences, which will help the author to select the most optimal audience in the future. In the following example, the anonymous page Politics tested the effectiveness of defamatory material aimed at Giorgi Gakharia in five different audiences.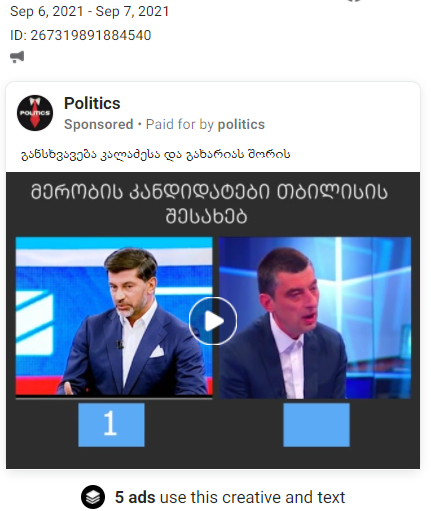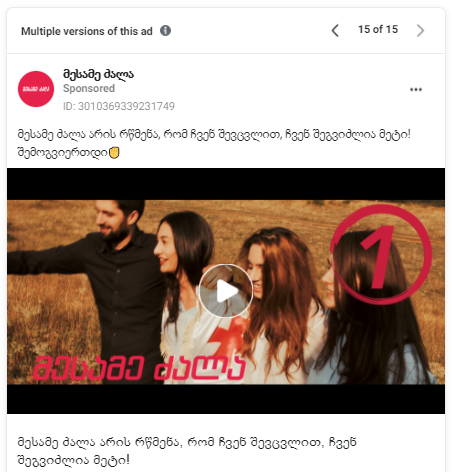 How to use Facebook Privacy Shortcuts?
It is true that by restricting data sharing, Facebook will not stop showing us ads, but gaining partial control over the data allows us to change and make our own news feed experience more acceptable.
Discontinuing the display of ads on sensitive topics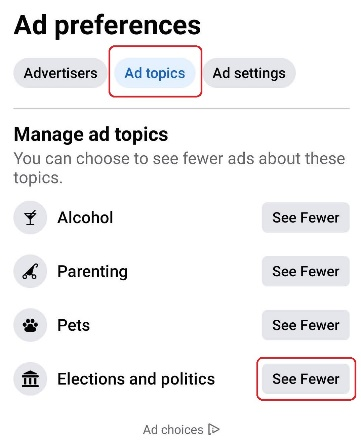 Users can order the platform to reduce the display of ads on topics such as politics, elections, social issues, alcohol, animals. It should be noted that the platform only filters political/election-related advertisements that are declared by the customer. Anonymous actors and sometimes even politicians often sponsor posts without a declaration. Thus, shutting down ads on sensitive issues will not preclude viewing undeclared sponsored political posts.
Instructions: Settings> Ad Preferences> Review your ad preferences> Ad Topics> See Fewer
Gaining control over targeted ads
Facebook allows the interested third party to use the public information and interests of users to display ads tailored to them. These interest categories can be removed from the ad settings. The number of sponsored posts will not be reduced either, but advertisers will no longer be able to use the user's personal interests for their own commercial or political purposes.
It is an interesting process to review the list of interests before deleting and discover what information Facebook has based on your visions and tastes. In this list you will probably find interests related to your political ideology, religious views and ethnicity. Here you can read the conclusion of the platform that, for example, you are often involved in political discussions. As already mentioned, Facebook is studying your interests by studying user behavior on the platform, actions taken outside of Facebook, and information shared by partners.
Interest Removal Instructions: Settings> Privacy Shortcuts> Ad Preferences> Ad Settings> Add Settings> Categories used to reach you> Remove
Partner data sharing control
Thanks to the built-in Facebook pixel on affiliate sites, the platform also monitors your actions on those sites, collects data and sets up interests.
The Off-Facebook Activity tool offers a complete overview of the apps and sites that collected data about you, how Facebook received the data, how many interactions (logging in to the app, finding something, purchasing) the company counted, and more.
If you want Facebook to stop developing interests and don't want to systematically delete them, then it is better to cut off the company's sources from which they take your data to determine said interests. One way to do this is to limit data sharing from the company partners.
Instructions: Settings> Privacy Shortcuts> Ad Preferences> Ad Settings> Data about your activity from partners
If you want to order Facebook to delete data that has already been collected and shared by dozens or hundreds of partners, then follow the instructions:
Instruction: Settings> Privacy Shortcuts> Your Facebook Information> View or clear your off-Facebook activity> Clear History or Manage Your Off-Facebook Activity
Stopping the use of data obtained from partners for advertising
Whenever you choose to log in to Facebook as a form of registration, the site or application (i.e. Facebook Partner) becomes the owner of your public information. In the future, Facebook partners will be able to show you personalized ads as users of their services or products. This all sounds nice until we find out from the ad settings that tens or hundreds of Facebook partners have information about our email, cell phone number, age, place of work, and so on.
Before you stop sharing data with your partners, you should know that once you remove them from your settings, you will need to re-sign up for the partners' site / app.
Instructions: Settings> Privacy Shortcuts> Ad Preferences> Ad Settings> Audience-based advertising
Controlling ads displayed with Facebook data beyond Facebook
The company claims it does not sell customer data, but shares them to apps and websites that buy Facebook advertising services. In this regard, the data generated by the actions taken on Facebook, may be the reason for displaying targeted ads on another site. It is also possible to stop the flow of this information from the settings.
Instructions: Settings> Privacy Shortcuts> Ad Preferences> Ad Settings> Ads shown off of Facebook
Stopping ad coverage from selected pages
In a social media filled with continuous information, the goal of agencies is to make users remember the displayed ads as much as possible. You may encounter the same ad in the news feed several times a day, every day.
By opening the displayed ad options, an option titled 'Why am I seeing this ad?' will appear. By pressing this, Facebook presents the reasons why a particular ad was in your news feed. Here, Facebook clarifies that there may still be reasons that they can't show on the page.
From the same window, you can stop subscribing to page ads by clicking on 'Hide all ads from this advertiser'.
The platform will show you 8 recently viewed ads on the Ad Preferences settings page, from which you can stop authors from sharing ads to you.
Control of priority posts in the news feed
Friends, subscribed pages and groups, interactions and digital behavior shapes the news feed which users encounter every time they open Facebook. In determining the order of posts in the news field, the company prioritizes posts with high interaction (reactions, comments, views). These posts are often emotional because people react more to emotional content. Harmful actors use this effectively and try to deliver emotional posts to users during misinformation or discrediting campaigns. Examples of emotional type posts are hate speech, nationalist, anti-liberal, xenophobic, homophobic and other messages.
In order for you to prioritize the sequence of posts in the news field, Facebook has introduced the "Favorites" option. By adding up to 30 friends and pages into Favorites, you can see that their posts will always be at the top of the news feed.
Instructions: Settings & Privacy> News Feed Preferences> Manage Favorites>
Making a Favorites list is not enough to take advantage of this feature. Facebook tries to define the ranked news feed by its own algorithm. Each time you open Facebook on your PC, you have to click on Favorites in the menu on the left to open the relevant news feed. When using your mobile, you have to click on the three lines in the upper right lane, then select Recent & Favorites.
If the profiles and pages in the news feed are unacceptable to you, it is better to unfriend those profiles or unfollow the pages. If you do not want to delete a friend, then you can use the 'Snooze' feature from the post options, as a result of which you will stop viewing their shared posts for 30 days without deleting them, and Unfollow will permanently restrict posts from the page or profile.
Disinfoobserver is an interactive platform created by ISFED, which features a database of pages involved in disseminating misinformation and manipulated information, polarizing societal value, misbehaving, or other damaging information operations.
Using search and filtering, you can check the page or send a suspicious page link to ISFED's social media monitoring team, which will verify the page's authenticity and update the database if necessary.
As of September 2021, the DisinfoObserver database is up to five hundred pages long.
Privacy Shortcuts: An effective tool or an attempt to break the rules?
"Twitter has blocked political ads, while Google has chosen to restrict targeting. We choose to increase transparency and give people more control over political advertising. Unlike Google, we decided not to limit the targeting of such ads." - With this announcement in January 2020, Facebook put an end to the expectation that the company would restrict micro-targeting in political advertising. The decision was preceded by several years of sharp criticism directed at Facebook for manipulating election results through micro-targeting. Following the Cambridge Analytics scandal, the company also received a record $ 5 billion fine from the US Federal Trade Commission for failing to protect consumer data.
Facebook believes that the updated settings offer users "unprecedented transparency." However, the library of political advertisements in Georgia still does not have information about the authors of anonymous discrediting advertisements, and the transparency of their identities is of a formal nature.
In addition, complying with the regulations and handing over control of data to users does not mean that data control is entirely in the hands of users. Companies resort to a number of tricks to get people willingly or unwillingly consent to the sharing and use of data.
| | |
| --- | --- |
| Your Rights | |
| Information and Access | To have information on personal data collection and request access to it |
| Correction | Request to correct your personal data if they are not accurate or incomplete |
| Erasure | Request to erase specific data |
| Restriction | Request to restrict gaining your personal data |
| Object | Contact us about using your data or appeal using them for marketing purposes |
| Data Transfer | Request your personal data copy in electronic format and grant it to the third party |
| Refusal of the status of the addressee of automatic decisions | Don't be an addressee of only automatic decisions (without human engagement of) including profiling, where the decision would have a legal effect on you. |
A study by the Norwegian Consumer Council argues that Facebook Privacy Settings is an illusion of control over data, and users are punished because they choose security instead of sharing data. For example, the initial settings of the Facebook profile are always set to data sharing, and users constantly have to disable certain services instead of enabling them. However, disabling the service requires a total of 14 clicks in, while activation requires only 4. When Facebook stops sharing data, they inform users of the list of dramatic consequences caused by this action, though it does not report such beneficial effects as reduced micro-targeting or increased data protection.
Mark Zuckerberg believes that the company should not stop fact-checking information or restricting political advertising, as this would be censorship of political opinion. He called on regulators to work out common regulations for the platforms, before announcing a tougher crackdown on harmful coordinated groups and experimenting with reducing the visibility of divisive political ads.
Privacy Shortcuts is an important step forward in preventing the harmful effects of micro-targeting, although it is not enough. Using Privacy Settings, personalized ads are restricted to appear on users' news feeds, but the company does not yet intend to stop collecting user data nor restrict their transmission to political ad sponsors.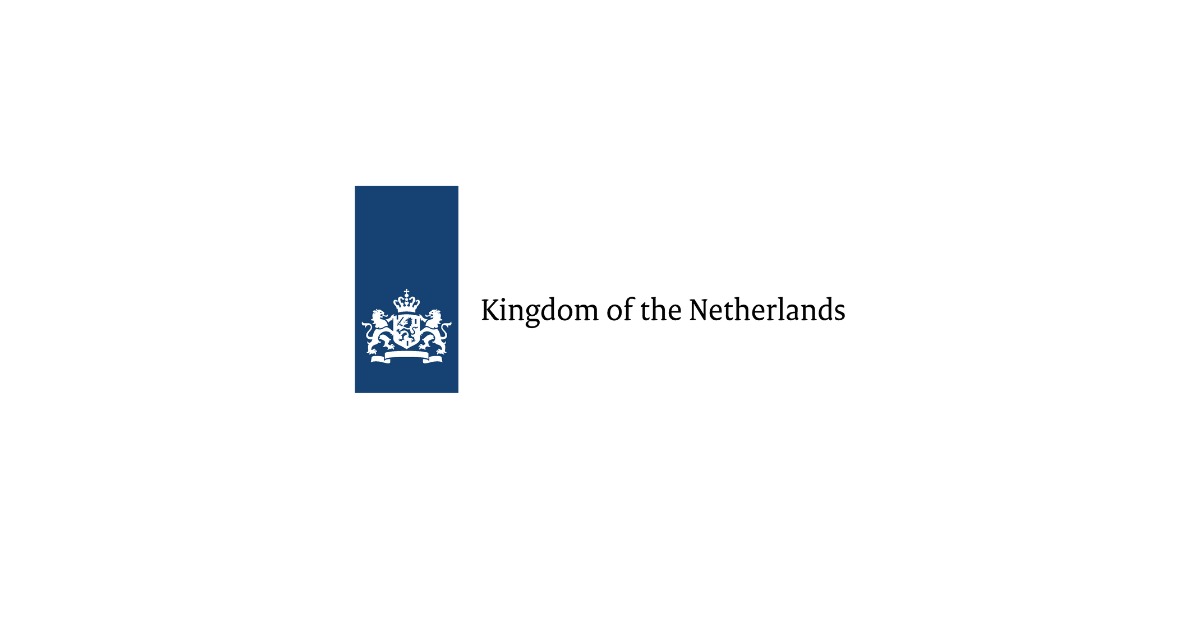 The publication was made possible with the support of the Embassy of the Kingdom of the Netherlands in Georgia. The views expressed are those of ISFED and may not necessarily reflect the views of the donor.